Stir Fried Broccoli With Ginger and Hoisin Sauce
IngridH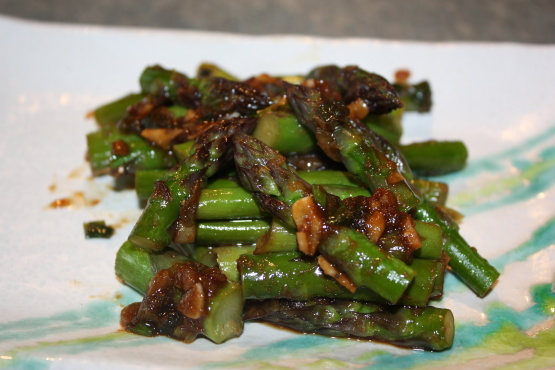 Something different for broccoli. Asparagus could be prepared this way, just reduce the water to 2 T.

I decided to use asparagus for this, since it's in season right now. The sauce is a great compliment to the vegetable, you can taste the garlic and ginger easily, and the soy balances nicely with the hoisin so that this is neither too salty or too sweet. A very nice, easy recipe to serve with an Asian-style meal. Thanks for posting!
Heat oil in wok or skillet on high. Add garlic, ginger and green onions. Cook for 30 seconds.
Add broccoli and stir fry for about 2 minutes. Add water, soy sauce and hoisin sauce and bring to a boil. Cook, stirring for 3 - 4 minutes, until broccoli is glazed with sauce.