Stir Fried/Braised Bok Choy
Parsley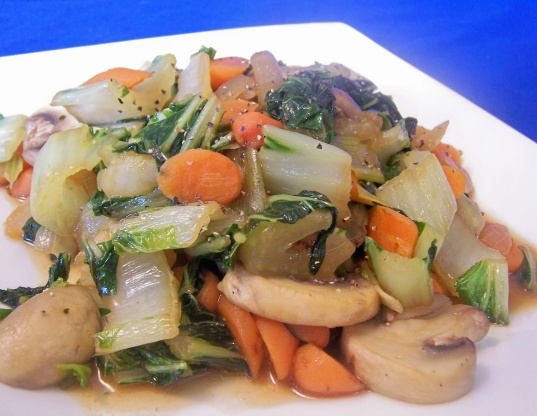 This was really good, I paired it with "Easy Chicken Thighs" by MissPenny and instead of using the soy sauce at the end, I used the broth from the chicken thighs (which has soy sauce in it) along with a couple drops of sesame oil. My family loved it.
Heat the peanut oil in a wok over high heat.
Add the white onion and cook 3 minutes until brown and crispy.
Add the carrots and stir fry another 3 minutes.
Add the bok choy, green onions and mushrooms and stir fry an additional 2 minutes.
Pour the broth over the vegetables and simmer for 2 minutes.
Season with tamari and serve over a bed of brown rice.
Yield is estimated as a side dish.