Stir Fried Beef Salad in Tortilla Cups
Catnip46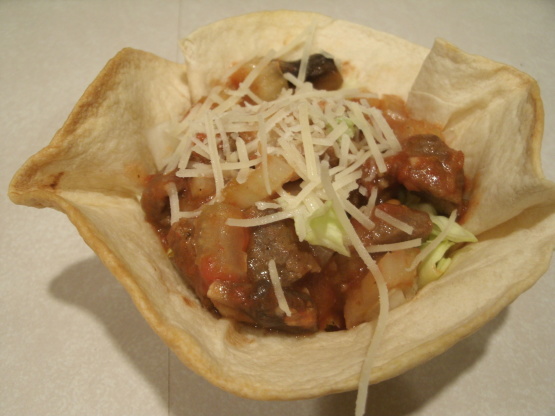 A simple dinner the whole family will love.

I used my home made picante sauce. I also added lots of onion, chopped celery, fresh mushrooms, a bag of cooked seasoned beef strips and shredded Parmesan cheese. Since the meat was already cooked I added all the vegetables and meat together at the same time and stir fried just until the meat was hot, the mushrooms done and the vegetables still crunchy then added the other ingredients. Layered this in my tortilla cup and topped with cheese. Next time I think I will also top with sour cream and serve this in a taco shell wrapped in a soft tortilla or just serve on a plate of lettuce. I did not care for this in the tortilla shell.
PREHEAT oven to 400°F Place 4 (4-oz.) custard cups, upside-down in shallow baking pan. Soften tortillas according to pkg. directions. Drape 1 tortilla over each cup. Spray each with vegetable cooking spray. Bake 10 minute or until edges are golden. Let cool.
SLICE beef into very thin strips. Toss beef with garlic powder.
HEAT oil in skillet. Add beef and stir-fry until browned and juices evaporate. Remove beef.
ADD picante sauce, dressing, onions and tomatoes. Heat to a boil. Return beef to skillet and heat through.
ARRANGE 1 cup salad greens in each tortilla cup. Spoon beef mixture over salad greens.