Demandy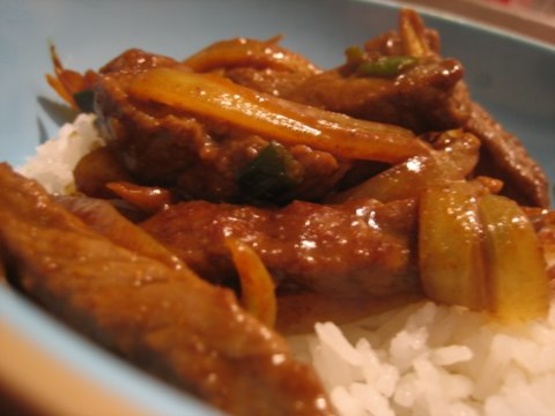 Easy and delicious. Curry is not traditionally a Chinese spice, but it adds a hint of exotic, subtle flavor to this dish. This can be a filling dinner for 2 on it's own or can be served as part of a multi-course Chinese-style dinner. It matches well with vegetables, especially string beans or broccoli.

Top Review by CC G
I didn't want to review this as I see I made a big mistake! A little embarrassing but I used rice wine vinegar instead of rice wine or sherry. No wonder I thought the vinegar was too strong. I will definately make again with the right ingredients. Thanks,
Place beef in a bowl; add all marinade ingredients and allow to marinate for 20 minutes.
Pre-heat wok until very hot.
Add the peanut oil, and heat until oil smokes a little; then stir-fry beef until lightly browned (3-5 minutes).
Remove from wok and drain well in a colander set inside a bowl to reserve oil.
Wipe the wok clean and re-heat over high heat.
Return 1 tablespoon of reserved oil to the wok, and stir-fry the onions and garlic for 1 minute.
Mix in all ingredients listed under sauce, and let mixture simmer for 3 minutes.
Return the beef to the wok and toss to coat thoroughly with sauce.
Serve immediately.