Stir-Fried Beef, Broccoli and Pecans in Garlic Sauce
PaulaG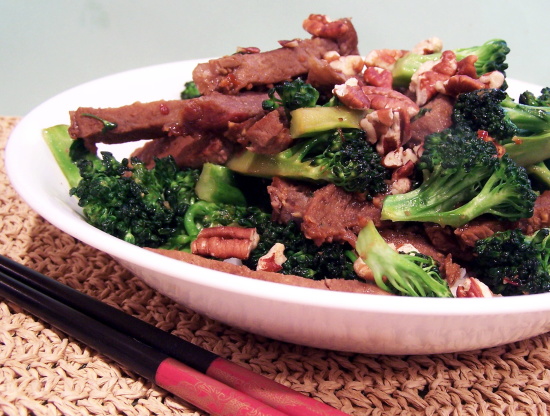 This Asian-flavored recipe is adapted from a mailing I got from The Splendid Table, a recipe program on National Public Radio. The original used walnuts rather than pecans and dry sherry rather than mirin. I actually marinated the beef in the soy sauce-mirin mixture a couple hours before cooking. Be sure to use TOASTED sesame oil--it is used for its taste and regular sesame oil is just not the same.

This is excellent. I set this up early in the morning, marinating the beef and having the sauce along with the garlic - ginger mix ready for a 'quick cook' after a meeting. Instead of cooking the broccoli in the wok, I used the microwave and had it all ready to go. I did add extra red pepper flakes and doubled the sauce (always do for chinese style meals). Fabulous flavour and a keeper for our family. Thank you echo echo for a great meal.
Combine the garlic sauce ingredients in a jar; set aside.
Toss the beef with the soy sauce and mirin in a medium bowl.
Combine the garlic through red pepper flakes and 1½ tsp oil in a small bowl.
Toast the pecans over medium-high heat 2-3 minutes until aromatic; transfer to a bowl and set aside.
Heat 2 tsps oil in a skillet or wok; add beef w/ soy sauce marinade & sauté, stirring, 2-3 minutes until well browned; remove beef from the skillet.
Heat 1½ tsps more oil in the skillet, add the broccoli with ½ cup water, cover and cook 1-2 minutes until broccoli turns bright green.
Uncover and stir-fry 2-4 minutes until the liquid evaporates and broccoli is crisp-tender.
Push aside the broccoli, add the garlic and ginger to the pan and cook 45 seconds, mashing with back of spoon to release fragrance.
Stir together the broccoli and garlic, add the beef and toss to combine.
Shake garlic sauce in its jar and add to the skillet.
Remove the pan from the heat and toss to coat the beef and broccoli.
Sprinkle with toasted pecans.
Serve hot over rice.