Stilton Cheese, Pasta and Walnut Salad
Debi9400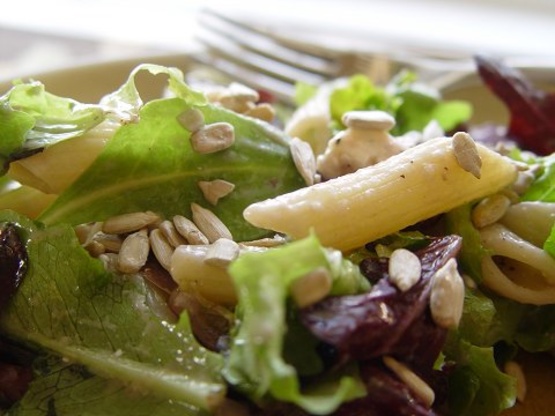 NOTE: Balsamic vinegar can be substituted for the red grape vinegar.

Definitely a dish for those that like blue Cheese and red wine vinegar as the flavours are quite intense. Really nice salad for those that do. Presents very well and easy to make. I topped with sunflower seeds as my walnuts disappeared into someone's tummy. Next time I'll try it with balsamic vinegar.
Cook the pasta according to packet instructions, drain, toss in olive oil and let cool completely.
Whisk together the dressing ingredients.
Add salt and pepper to taste.
Toss the salad leaves in a little of the walnut dressing so that each leaf is covered in dressing.
Add the crumbled stilton cheese and toss again gently.
Garnish with the walnut halves.
Serve the rest of the dressing with the salad.