Sticky Toffee Bread & Butter Pudding
troyh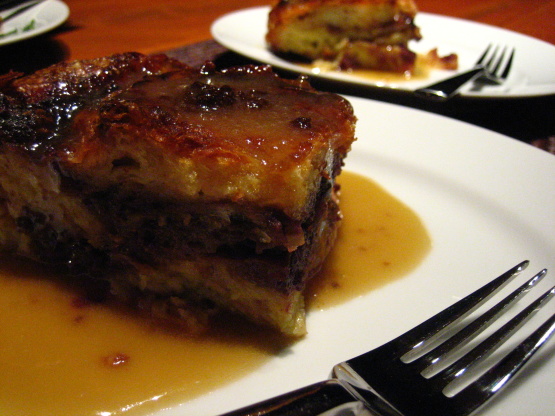 This is a real stick to your ribs sort of pudding, a twist on the plain Bread & Butter that I've adapted from a recipe by the chef Simon Rimmer. My other half loves Bread & Butter pudding, but hates currants, so this is a version he gobbles up. This pudding comes with a sauce which you can serve in a jug to pour at table. Incidentally, the sauce has these beautiful tones of toffee and brandy and goes equally well poured over other hot puddings such as apple pie!

My husband and I are bread pudding connoisseurs, and this is a great recipe! I far and away prefer dates over raisins. I was a little worried about creating the "date mush" because that wasn't a lot to go on, and the water instruction is a little vague, esp. when differently sized pots would result in different amounts of water. It all worked out though. The market was out of brioche though, and I subbed croissants -- can never go wrong with that -- but I'm anxious to make again with brioche. The sauce TOTALLY makes the whole dish though. And if you fear cloying, super-sweet desserts, do not worry, this is sweet, but really has great flavor. It does not make your teeth hurt. Looking forward to leftovers tonight!
Preheat oven to 170C/325F/Gas 3.
Put dates and bicarb of soda in a pan, barely cover with water and simmer until you get a thick 'mush'.
Butter one side of your Brioche slices or, if you're using rolls, cut them in half and butter each half. Arrange the brioche and date mixture in alternate layers in an oven-proof dish, starting and ending with a Brioche slice.
Beat the yolks, vanilla and sugar in a bowl. Heat the cream until scalding and then mix little by little into the egg mixture. Pour over the layered Brioche and leave to sink in for 15-20 minutes. Sprinkle the top with some brown sugar.
Bake for 40 minutes or until the custard mixture has set and the top is golden brown.
Whilst cooking, make the sauce by putting the butter, syrup and sugar in a bowl and bringing to the boil. Stir until it's smooth, remove from the heat and add the cream and brandy, stir and return to the heat briefly. Keep warm and serve with the pudding.