Sticky Onion Marmalade Sausages
Ozzy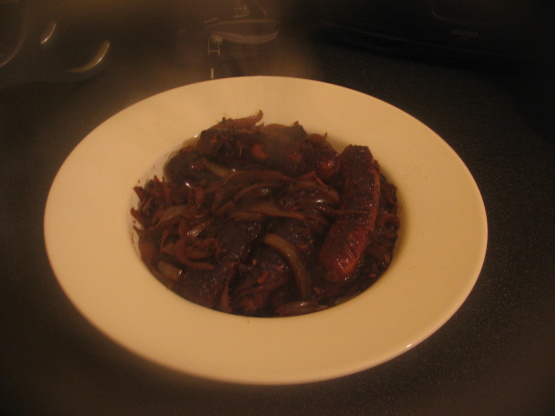 Recipe by Ozzy
These are unbelievable! I love sausage and mash and this is a favorite of mine, the longer you cook it the thicker the sauce gets so cook according to your taste. I have also made this marmalade to eat cold with cheese and crackers instead of a pickle - delish either way.
Brown sausages in a pan then drain and put to one side but keeping warm.
Melt butter in a pan, then add the onions, spring onions/green onions, and garlic.
Cook over high heat, stirring, for 10 minutes, until onions are soft.
Add the red wine and vinegar, and cook for 5 to 10 minutes, until liquid is almost evaporated.
Add the sausages to the onion marmalade in the pan and coat thoroughly then remove from pan and serve.