gailanng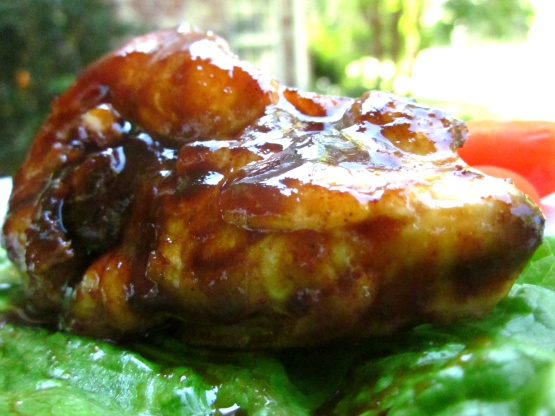 The original recipe was in "Eat, Shrink and Be Merry" by Janet and Greta Podleski. I have tweaked it a tiny bit for my family's tastes. We all loved this. It is a bit of a nuisance to have to pour off the sauce at the end there, but it is SO worth it! I love this served over white rice.

I changed to 4 chicken breasts instead of thighs. I baked at 375 for 1 hour. I added the cornstarch right in with the other ingredients and it was nice and thick when done. I LOVE THIS RECIPE and so does my family.
Preheat oven to 400°F Spray a 9x13 baking pan with cooking spray. Arrange chicken thighs in pan in single layer.
Whisk together sauce ingredients (barbecue sauce through cumin) in a medium bowl. Pour evenly over chicken. Turn pieces to coat both sides with sauce. Bake, uncovered, for about 40 minutes, or until chicken is no longer pink in the center.
Remove chicken from pan and keep warm. Carefully pour sauce from pan into a small pot. Bring to a boil over medium high heat. Combine cornstarch with water and mix until smooth. Add to sauce. Cook until sauce is bubbly and thickened, about 1 minutes. Serve hot chicken with extra sauce on top.