Sticky Chicken Drumsticks (Curtis Stone)
ImPat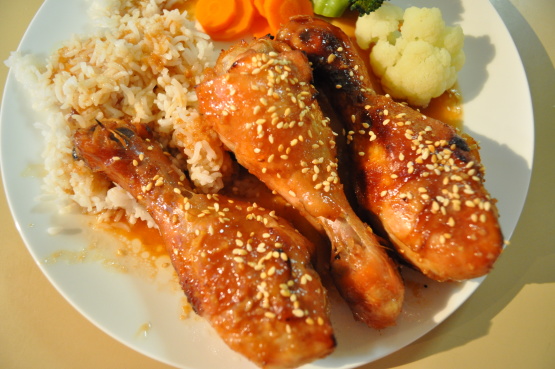 Make sure you have some wet wipes on hand if serving! These are so good.

Top Review by ImPat
A wonderful sweet and tangy flavour and a word of advice if you are like us and like to eat your drumsticks with your hands make sure you have finger bowls and napkins handy. I decided to bake them in the oven at 175C fan forced oven for 50 minutes, turning them every 15 minutes. The 9 drumsticks just fitted into my baking dish and though it didn't get as thick as it would with grilling/broiling method you have a wonderful sauce to put over your rice. Thank you Brookelynne26, madee for Photo Tag. UPDATE - there was one drumstick left over which I have just devoured as a late night snack - the DH is on night shift and the DM and DS had gone to bed and well I was feeling hungry and I remembered this lone drumstick that had been left over - well it was absolutely delicious, not as sticky but oh the flavours had just developed and could I say even better - fully recommend for making ahead for a picnic or lunch boxes with a nice salad.
Mix all ingredients, except sesame seeds, together and pour into a large resealable storage bag, with chicken, to marinate. Refrigerate at least one hour, but overnight is preferable.
Position an oven rack 8 to 10 inches from broiler and preheat broiler. Line a large, rimmed baking sheet with heavy duty foil. Tranfer drumsticks and marinade to the sheet and broil, turning occasionally, for 25 minutes, or until chicken is cookemarinade has formed a glaze. Make sure to watch closely so chicken does not burn. Sprinkle sesame seeds over chicken and serve.