Shawn C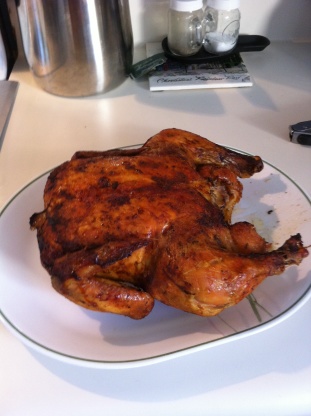 This is another favorite of mine from Top secret Recipe boards that no longer exist. I fix this as a fancy dish for quest. It is quite spicy, I must warn you though! But OH SO GOOD!! I switched it up a little in order to make a gravy, otherwise it is the same recipe. If you don't want gravy omit the chicken broth.

Fabulous! I used this recipe instead of the similar recipe because this one called for less salt,which I further reduced to 1 tsp--we are not salty food people. I made this with 3 very large chicken breasts with bone in but deskinned. I put the onions and garlic in the bottom of the pan and added the chicken broth. This was really good and had a unique flavor. This is a great meal for busy weekend days when you want a great meal but don't want to spend all day in the kitchen doing it. Since my broth never carmalized in the bottom of the pan I never added the rest of the chicken broth. I basted every now and then and flipped the chicken over for the last half hour since I cooked it with the meaty side up. Thanks for sharing! I can't believe I missed this when it was on the TSR boards.
Combine all spices in small bowl.
Rinse chicken, inside and out, and drain well.
Rub spice mixture over skin and the inside of chicken.
Place in a re-sealable plastic bag, seal and refrigerate over night.
Or place in roasting pan and cover with saran wrap or aluminum foil.
When ready to roast, stuff cavity with onions, garlic and lemon juice.
Place chicken, breast-side down, in roasting pan.
Add 1/2 can broth to pan.
Roast uncovered at 250º (that's not a typo -- it's really 250º! Anything over 225º is safe as long as the chicken reaches an internal temperature of at least 155º, which this does, and more) for about 5 hours.
Baste occasionally with pan juices or until pan juices start to caramelize on bottom of pan and chicken is golden brown.
During last hour add remaining broth.
To make gravy, move chicken to a platter, put all juice and drippings into a saucepan.
Heat to boiling and add a mixture of cornstarch and water until desired thickness.
Serve with mashed potatoes or rice.