Sticky Bacon & Sweet Potato Jackets
PaulaG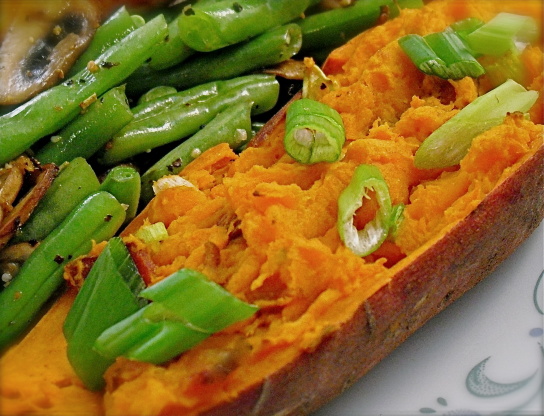 From an old BBC Food magazine

Top Review by ImPat
I made this just for me for lunch and my potatoe weighed about 200 grams and I cooked in the oven as I was cooking something else and also cooked the the bacon in the oven adding it to the tray part the way through cooking the potato and then adding it later with the potato and I also used a sugar free maple syrup and well topped with some grated cheese (tasty/cheddar) and under the grill/broiler just before serving, a great lunch with a garden salad., Thank you katew, made for Make This Recipe, Edition 11.
Pierce skin of potatoes.
Microwave on High for 10 - 12 minutes till soft, turn them over halfway.
Halve potatoes lengthways.
Scoop 1/3 of flesh out and place in mixing bowl.
Place potato skins on baking sheet.
Chop bacon into chunky pieces and fry in oil till cooked.
Add to bowl and combine with remaining ingredients.
Season to taste.
Spoon this mixture back into potato skins.
Grill till heated through and golden.