Boomette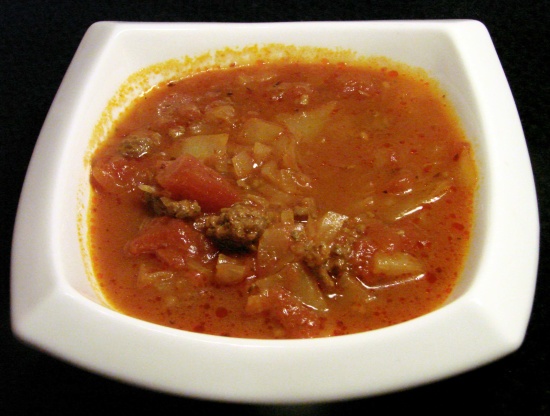 Yum! A filling and tasy soup you will love, that's also low fat! From Perfect Food, a weight watchers magazine.

Delicious stick to your ribs soup. I used extra lean ground beef and cooked it in some unrefined extra virgin olive oil. I didn't need to drain it because it was so lean. I used mainly V8 juice plus some tomato juice from the canned tomatoes for which I used a good brand of whole plum tomatoes I chopped myself, garlic salt with no additional salt, freshly ground black pepper, dried marjoram in place of dried thyme because of dislike for the latter. I used beef broth left over from simmering cabbage rolls that had beef in them. I forgot to add the pasta we enjoyed it very much without. I would make this again.
Cook beef in a 12 quart Dutch oven or stockpot over medium heat until browned, stirring to crumble.
Drain well, and return to pan.
Add water and the rest of the ingredients, except the angel hair pasta, and bring to a boil.
Reduce heat, and simmer, uncovered, 2 hours, stirring occasionally.
Break the pasta in half; stir into soup, and cook an additional 5 to 10 minutes until pasta is done.
Enjoy!
Points-3.