Stewed Veal in a Cream and Lemon Sauce
JustJanS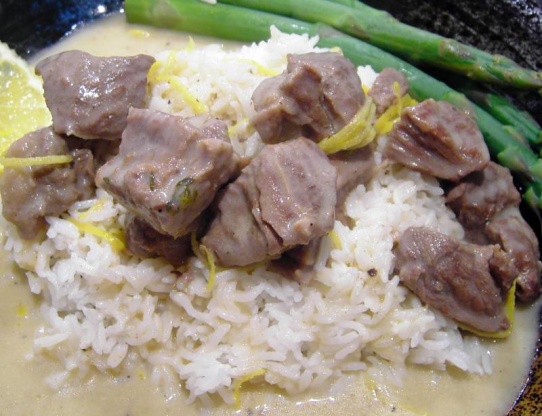 This recipe is from the 'Compleat Housewife' written in 1729. It is a most satisfying and delicate dish, and is traditionally served with plain, boiled, fluffy rice.

This recipe was fantastic. It is subtle, but then it sort of hits you that it's full of flavour too-hard to explain. It was simple to make (no onions or garlic to chop, nothing to brown), and went really well over plain white rice. I'll be making it again, and if I don't have veal, I'll be trying it with lamb.
Trim the veal of fat and sinews and cut it into neat cubes.
Put them into a saucepan with the anchovies and thyme and cover with stock.
Season lightly and simmer, covered for 1 hour or so until tender.
The veal must cook gently or it will shrink and toughen.
When completely tender, strain the stock into a jug and keep the veal on one side, removing the stalks of thyme.
Melt the butter in a saucepan and stir in the flour.
When it starts to froth gradually add the veal cooking liquid, stirring it in between each addition so that you have a smooth sauce.
Let it simmer for 10 minutes then stir in the cream.
Season the sauce with nutmeg and lemon zest and if necessary with salt and pepper.
Put the meat back in the sauce and simmer gently until heated through.
Serve garnished with slices of lemon.