Stewed Tomatoes and Garbanzo Beans
dicentra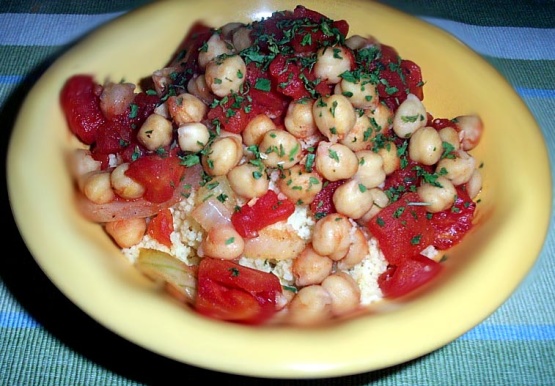 From Eden Foods. I served this over cous cous, but it would also be great over some brown rice or quinoa. Add some red pepper flakes if you want more kick.

Yum, Easy, tasty recipe for a side dish or a main dish. I served it tonight as a side with meatloaf and a green salad. I did add a couple of dashes of red pepper flakes and sprinkled each serving with Parmesan. Will be great as a vegetarian main dish. A good recipe for making variations. Add a little corn or sliced sausage or fresh spinach and on and on.
Heat oil in a medium sauce pan. Sauté the onion and garlic for 5 to 7 minutes, stirring frequently, until the onions start to brown.
Add all remaining ingredients.
Cover and simmer 8 to 10 minutes, stirring occasionally. Remove cover. Serve.