Stewed Summer Squash and Onions
Parsley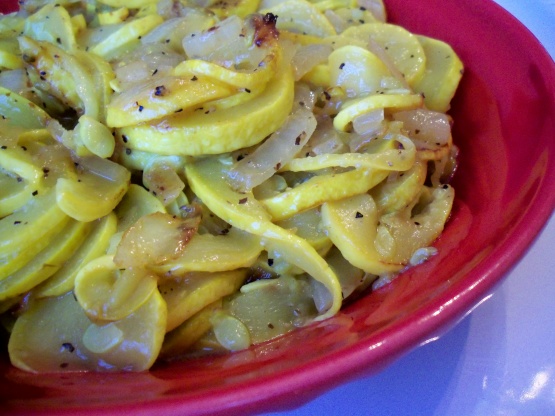 This isn't a recipe as much as a method of cooking summer squash. I gave amounts but treat it more as a ratio than a rule- allow at least one squash per serving because it cooks down to a very small amount even though it looks like you are cooking a lot.

This method really brings out the natural sweetness of yellow summer squash. I did allow the squash and onions to brown/carmelize just a bit as mentioned. I'm always happy to find new methods and new recipes for yellow summer squash because I usually have tons in the summer. Thanx for a new recipe!
4

summer squash (zucchini works but I prefer yellow)

1

large onion, diced

3

tablespoons butter
salt and pepper
Slice squash as thinly as possible- I use a mandoline to do this quickly.
Melt butter in large skillet over medium heat.
Add squash and onions and season then cover with water.
Cook, stirring occasionally until water evaporates.
Can be eaten at this point, but I like to cook it until it is almost brown, you just have to stir very frequently because it will stick pretty bad. Cooking it a long time will caramelize the vegetables and it becomes a sweet side dish. Warning- it isn't pretty, but it is tasty!
Make this into a main dish by adding chunks of ham during cooking. Also delicious!