Stewed Rhubarb ( Rhabarberkompott )
Derf2440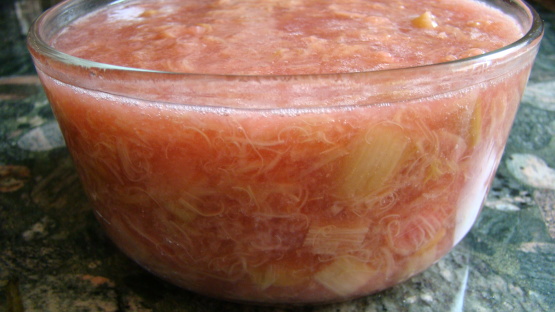 We love Rhubarb, we even grow it. Strawberries can be added to make a good fruit compote. Can be made with SPLENDA for diabetic.

Yum! I halved the recipe because I only had one pound of rhubarb. I used Splenda instead of sugar to cut down on calories. This is sooo good. I have been eating this with cottage cheese and and can't wait to try it over some ice cream. Thanks for sharing this keeper.
Variations; White wine can be substituted for water, in which don't use vanilla.
Whole strawberries can be add to the hot compote.
Wash rhubarb, if young and tender, do not peel; otherwise strip off tough stringy coating, Cut in 1/2 to 3/4 inch pieces.
Place in pot and sprinkle with sugar.
Add lemon or orange peel.
Cover and simmer slowly 5 to 10 minutes or until tender, but doesn't lose its shape.
If using vanilla stir in now, taste to see if more sugar is needed, if so stir sugar in while fruit is hot so sugar can dissolve.
Chill to serve.