Stewed Green Beans - South African Farm Recipe
Debbwl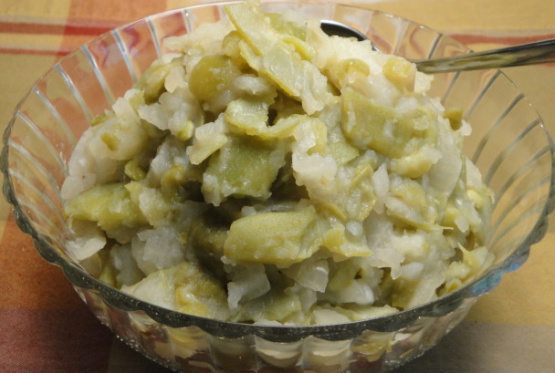 You'd call this mashed beans, and it is, sort of! It's a common way we have of cooking older green beans, when they're past their prime and not good enough to steam plainly any more. This side dish comes under the heading of "old-style comfort food"! Delicious with roast meats and stews. As with such old, trad recipes, quantities are not set in stone.

LOVED this!!! Definitely a new comfort food for us, and I'm not going to ever change one thing in this recipe except that I don't use the nutmeg. The white pepper is critical, it really makes all the difference. Thanks for sharing this yummy recipe!
Made for A New African Tag Game / African Forum.
Wash and tail beans. Please note that you could use more; the quantity doesn't matter. If you're cooking for more than 4 people, use more beans and maybe 2 potatoes.
Cut the beans cross-wise into rounds -- anything from thinly sliced to 1" long.
Carry on until all the beans have been cut.
Put in a pot, and slice the peeled potato and onion over the beans.
Add about 1/3 cup water, sugar, white pepper and salt.(Yes, white pepper is the best here, but black pepper is fine). Don't mix: just put lid on and bring to boil, then lower heat and let simmer.
Bring to the boil, lower heat, put lid on, and let the whole lot simmer until everything is very soft.
Using one of those utensils (name?)which you use to mash any vegetable roughly, mash the beans, potato and onion, but don't try to beat it to a pulp -- there should be texture left (see photo's!).
Usually there is a bit too much liquid left. Drain this off -- I use a sieve -- or you can boil it away over high heat, but be careful not to burn the veggies.
Add a good knob of real butter, fork through, and sprinkle with nutmeg to serve.
This simple dish can easily be made ahead and warmed up -- the flavour improves.
Serve as a vegetable side dish.