Stewed Chicken - Trinidad Style
Pneuma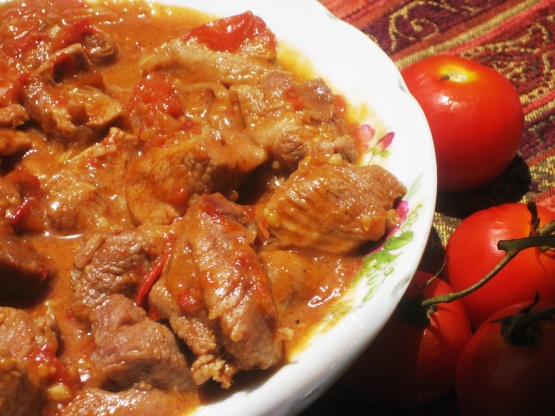 Delicious and very easy to make--a traditional recipe that will be cooked in every home. Six large fresh tomatoes can also be used.

This recipe is proof that a dish does not have to be complicated or have a long list of ingredients to be flavorful and delicious. Cooking the chicken in the browned sugar seemed odd at first, but it really works. I used canned tomatoes, but also added a couple of chopped romas. Thanks for something new in my repertoire. Made for PAC Fall 2009.
Finely chop onion, garlic, fresh tomatoes.
Cut chicken into medium/small pieces.
Put oil & sugar in a pot on high heat, and caramelize sugar.
When golden brown, add chopped chicken pieces.
Keep turning until all pieces coated in caramelized sugar and golden brown in color.
Add onion & garlic.
Keep cooking until onion translucent.
Lower heat, add tomatoes & other seasonings.
Simmer covered on low heat until chicken is cooked.
Remove cover and cook further , reducing liquid until sauce thickens but DO NOT let dry.
Serve hot with hot rice OR mashed potatoes.