Rita1652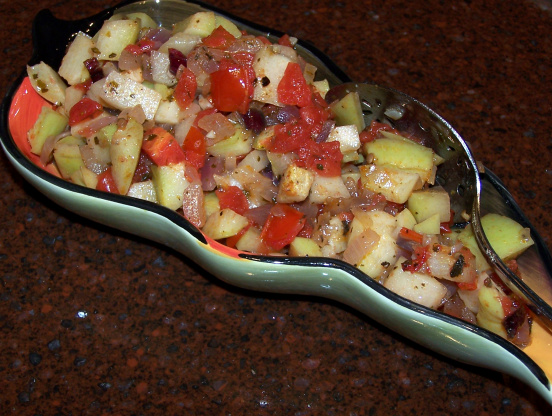 A pleasant, somewhat summery side dish from M.S. Milliken & S. Feniger. Especially good with flaky white fish or grilled chicken. I think that the salad and veggie seasoning adds a nice flavor, but omit it if you are avoiding MSG. The chayote is just fine without it.

This was a great way to cook chayotes! It would be great for a spring or summer day, and goes great with chicken. If you're avoiding the salad/veggie seasoning, I'd recommend adding in something acceptable for your particular diet - the chayotes are great, but the flavor is pretty mild. I used oregano & white pepper, and it came out great!
6

chayotes, peeled (also known as mirliton or chuchu in some regions)
1⁄4 cup olive oil

1

large onion, diced

3

cloves garlic, minced

2

tomatoes, cored,seeded and diced
1⁄2 cup water

1

envelope salad and veggie seasoning (I use Goya brand) (optional)
Quarter the chayote.
Remove and discard the center seed of each.
Cut into 1/4-inch slices.
Bring a large pot of salted water to a boil, add the chayote, and boil for 5 minutes.
Drain.
Heat the olive oil in a large skillet over moderate heat.
Cook the onions until translucent, about 5 minutes.
Add the garlic and cook for 1-2 minutes longer.
Add the chayote, tomatoes, and water.
Bring to a simmer, cover, and cook over low heat for 10 minutes.
Serve immediately.
NOTE: If you can't locate chayotes (usually found in the tropical or exotic produce section), try using zucchini or cucumbers (yes, cucumbers can be cooked like zucchini).
These are the closest matches to chayote, taste- and texture-wise.