Stew With Herbs and Barley
JustJanS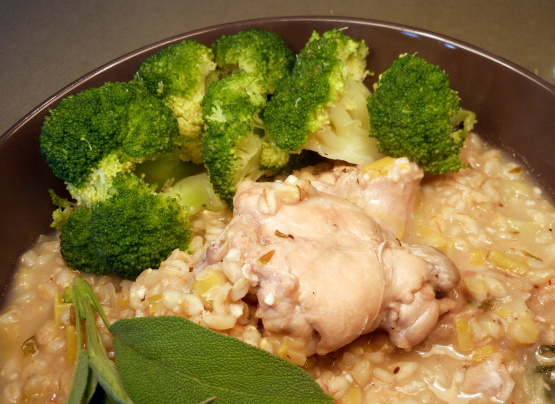 Posted to the SCA_recipes LiveJournal community. Can be made with rabbit, hare, veal or chicken, depending on preference and availability. Documented to 7th century England.

Well, DrGaellon, this FAR exceeded my expectations. I picked the recipe because we've been eating a bit of barley lately, but thought that it ( the recipe) was a little simple. Boy was I wrong-it is simple but so delicious. We are lucky to have family on a farm, who shoot, and keep us in plenty of wild rabbit, so we eat lots in lots of ways. I said it was really good while Russ said it was one of the best, we've eaten. I halved the butter, seasoned the rabbit in the beginning, threw in a few sprigs of fresh thyme as the dish cooked, then halved the fresh sage at the end, otherwise followed the recipe. Thanks so much for posting. Not a very photogenic recipe, but delicious none the less!
Melt the butter in a heavy pan and fry the meat with the leeks and garlic till the vegetables are slightly softened and the meat lightly browned.
Add the barley, water, vinegar, bay leaves and seasoning. Bring the pot to the boil, cover it and simmer gently for 1 - 1 1/2 hours or till the meat is really tender and ready to fall from the bone.
Add the sage and continue to cook for several minutes. Adjust the seasoning to taste and serve in bowls.