Yogachef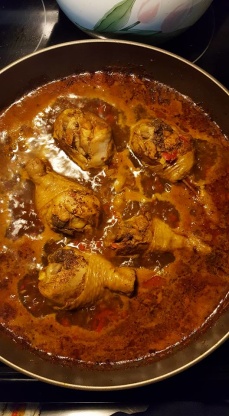 I used this recipe for week 27 of my food blog, "Travel by Stove." I am attempting to cook on meal from every nation on Earth, and Belize is my 27th stop. Please note that I never use any recipe for my blog that I'm not reasonably sure is from authentic or traditional sources, and this recipe has been posted without any alternations or additions to the ingredients.
Delicious! Very similar to what we ate on our trip to Western Belize! Only had legs on hand, but turned out so tender. Since I was only able to get the annato seeds at our grocery, I found this recipe to make the achiote paste: http://www.food.com/recipe/achiote-paste-102398. Needless to say, it all disappeared in one sitting, and I was told by my daughter that she liked it better than lasagna, so that is saying a lot!
Mix the achiote paste with the vinegar and rub it all over the chicken pieces.
Put the pieces in a large bowl and add the Worchestershire, cumin, thyme, oregano and black pepper.
Chop the onion, pepper and garlic and set aside.
Melt the coconut oil in a large saucepan. When it has melted completely, add the sugar and swirl to distribute.
Remove the chicken from the bowl, reserving the marinade, and brown both sides in the oil and sugar mixture.
Add the onions, peppers and garlic. Saute until the onions are translucent.
Add the reserved marinade to the pot and then add enough water to "almost cover" the chicken. Let simmer for 40 minutes to an hour, until the chicken is tender and the juices run clear. Adjust the seasonings if necessary.