Pixie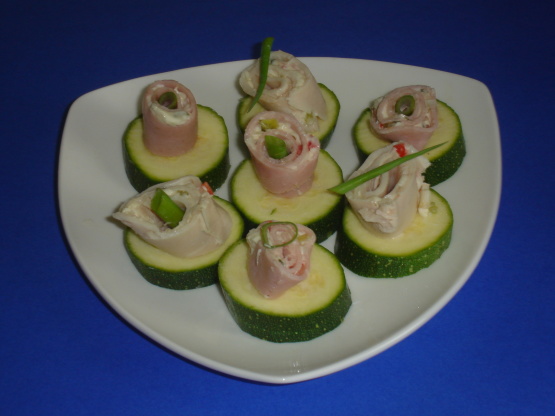 This is from 'George Stella's Livin' Low Carb' family recipes stella style, page 53. Steph is his sister and she created this recipe. I like to sometimes use deli roast beef.

Top Review by Pixie
Delish! Simple, easy and very tasty! Raw red onion bothers me so I subbed some green onion and a little bit of red pepper for the colour. I made some with cucumber and some with zucchini. Very nice appetizer or snack for those of us doing low carb, thanks for posting. Made for PAC Fall 2009.
In a small bowl combine the softened cream cheese, pickle relish, and red onion until well blended.
Spread a thin layer of cream cheese mixture over each piece of deli meat, then roll them up like a jellyroll.
Refrigerate 1 hour until firm, then cut each roll crosswise into 3 slices.
Place each piece atop a cucumber round. Serve and enjoy!