Steph's Chicken Enchiladas
katia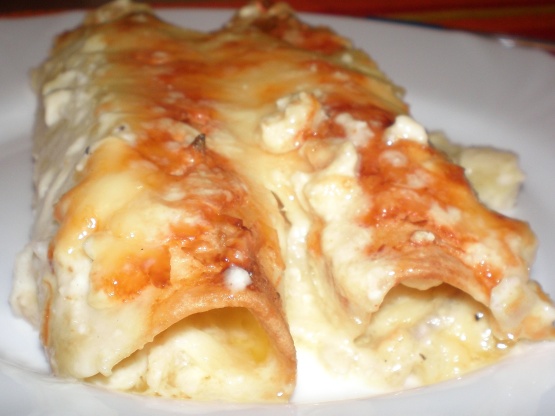 No tomatoes here, just a satisfying cheese and chicken filling with a creamy sauce all over it. I found this recipe on the all recipes site several years ago. This is an excellent recipe!

Top Review by katia
Made it for PAC Spring 2007. I loved it. Very tasty and easy to make. I used recipe#25653 instead of the can and I also added a pinch of nutmeg in the cream. Next time I'll add at the cream some paprika to get a better colour at the top cream. At the end I had some of the filling left and no other tortillas. So I just put it on the pyrex and top with some more cheese, like a casserole. It was also tasty, but the enchiladas were tastier! Thanks for a great dinner Ajena!
Preheat oven to 350 degrees F (175 degrees C). Lightly grease a large baking dish.
In a medium saucepan over medium heat, melt the butter and saute the green onion until tender (about 3 to 4 minutes). Add the garlic powder, then stir in the green chiles, cream of mushroom soup and sour cream. Mix well. Reserve 3/4 of this sauce and set aside. To the remaining 1/4 of the sauce in the saucepan, add the chicken and 1/2 cup of shredded cheddar cheese. Stir together.
Fill each flour tortilla with the chicken mixture and roll up. Place seam side down in the prepared baking dish.
In a small bowl combine the reserved 3/4 of the sauce with the milk. Spoon this mixture over the rolled tortillas and top with the remaining 1/2 cup of shredded cheddar cheese. Bake in preheated oven for 30 to 35 minutes, or until cheese is bubbly.