Stephen's Chocolate Peanut Butter Marble Fudge
Diana 2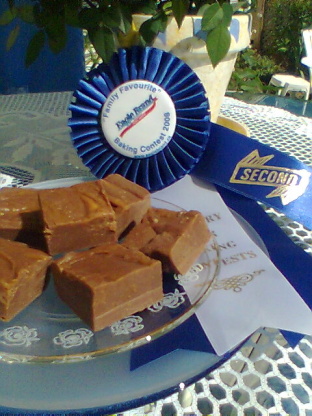 After hunting for the 'perfect' recipe, I decided to experiment on my own. This received rave reviews. We now just refer to it as "Stephen's Fudge". This has been adapted from an Eagle Brand recipe. Cooking time is chilling time. UPDATE Aug 18/08: I'm very happy to say that this recipe won Second Place in the Eagle Brand Category at our local fair.

I am not at all surprised that this is an award winning recipe :) In my mind the combination of peanut butter and chocolate is the 8th wonder of the world. And this is the perfect expression of that. Thank you Diana for creating it and including it in my package for the 2008 Cookie Swap.
Lightly spray an 8 x 8 pan with oil. Lining it with parchment paper also works well.
In a medium saucepan, mix together chocolate chips, peanut butter chips and sweetened condensed milk. Heat at medium temperature until chips have melted and mixture is smooth.
Remove from heat and add the vanilla.
Spread in the prepared pan.
While still warm, add dollops of the peanut butter, and swirl with a knife to create the marble effect.
Chill for at least 3 hours or until firm before cutting.