Stelline in Zuppa Di Asparagi E Menta
Annacia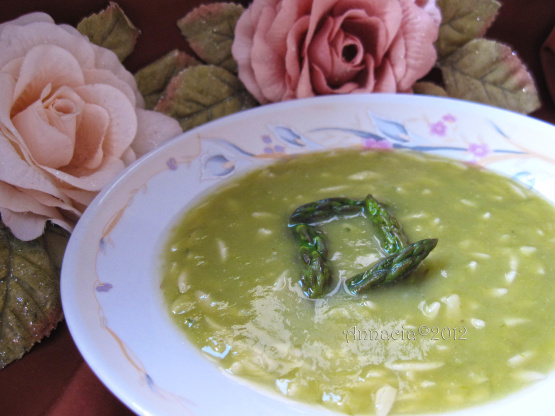 Taken from here = http://italianfood.about.com/od/pastabasics/ig/The-Pasta-Shapes-Gallery/Stelline--Tiny-pasta-stars-.htm Cooking times are estimated.

Beautiful recipe. This has fresh spring asparagus flavor bolstered with the body that the mild flavored potato adds. I don't have the Stelline and used orzo in it's place and for my preference I used about half of the ask for amount and I liked the final ratio of pasta to the soup. Someone else might prefer the full amount so please don't think that I'm saying the recipe is off. It's easy and quick to make for homemade soup which is always nice. The use of chicken stock gave me a full rounded flavor and this is light enough to use as a first course or a summer dinner when you don't want anything too filling.
Wash the asparagus spears and cut the green parts into rounds, keeping the tips as individual inch-long pieces and setting them aside.
Peel and dice the potatoes.
Mince the onion and sauté it in the butter with the asparagus rounds, potato, and mint. Check seasoning, add some of the broth, and cook the mixture for 20 minutes or so.
During this time boil the asparagus tips for a few minutes in a little more of the broth.
When the 20 minutes are up, blend the mixture containing the potatoes and stir it into the main broth pot together with the broth containing the asparagus tips, bring everything to a boil, add the stelline, and cook until they are done.
Serve.