Steel Cut Oatmeal for the Crock Pot
Guessica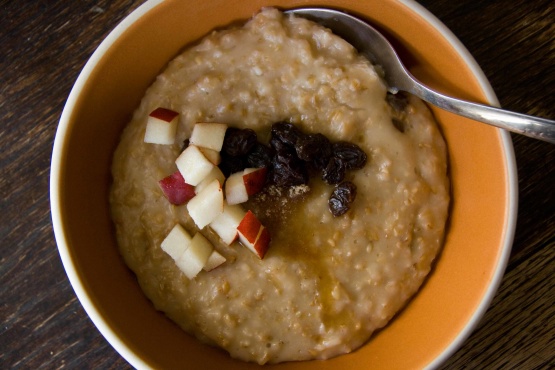 I love the texture of steel cut oats. You can make this the night before and breakfast is ready in the morning. I like fruit additions, but my kids do not, so I've listed them as optional. Also, it may sound like a lot of water, but trust me, I've experimented..

I made this in my six quart crock pot. I put 2 cups steel cut oatmeal 7 cups water, 1 cup of lowfat milk and 1/2 cup of ceylon cinnamon powder and set my crockpot for 10 hrs. Omg the best oatmeal I've ever had. I add cranberries and chopped walnuts to my bowl so yummy. I put in bowls in fridge and take 1 each morning to work. To heat I just add milk and microwave for 2 mins. My husband raves about this oatmeal. I just put on another batch for tomorrow.
Place all ingredients in a 2 quart slow cooker. (If you want to make a smaller amount please use a smaller crock pot or crockette. This won't work in a 6 quart cooker).
Cover and cook on LOW 6-8 hours.
It might form a "crust" around the outside. Just scrape it down with a spoon and stir.