Steel Cut Oatmeal for the Crock Pot
Guessica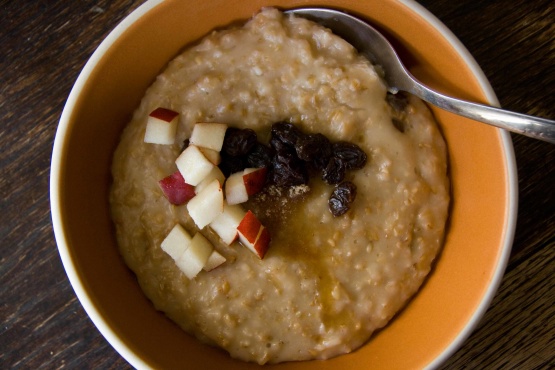 I love the texture of steel cut oats. You can make this the night before and breakfast is ready in the morning. I like fruit additions, but my kids do not, so I've listed them as optional. Also, it may sound like a lot of water, but trust me, I've experimented..

I have been making this oatmeal since I first saw the recipe on the the recipezaar website in 2007. I use 4 scant cups water (maybe more like 3/4 cup) plus the 1/2 cup, 2T butter, 1/2t salt, and it cooks up perfectly in 8 hours. In fact, after 8 hours if I have time, I usually just turn the crockpot off, stir, and let it sit. Then I put it into a 1.5 quart casserole dish so it can start to cool and set. Then I put the glass top on and pop it into the fridge. After it's totally set, I cut into portions (4-5) and put in containers. It freezes beautifully. Not a big fan of sweet oatmeal so either have plain, or my favorite with a big spoonful of peanut butter mixed in - oh my goodness, it is delicious!
Place all ingredients in a 2 quart slow cooker. (If you want to make a smaller amount please use a smaller crock pot or crockette. This won't work in a 6 quart cooker).
Cover and cook on LOW 6-8 hours.
It might form a "crust" around the outside. Just scrape it down with a spoon and stir.