Steamed Vegetables With Chile Lime Butter
ChefLee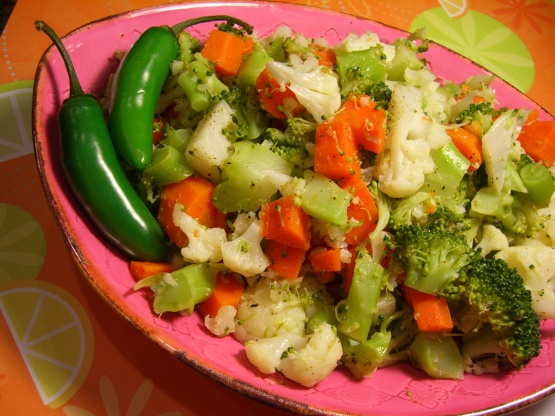 This is an awesome vegetable side dish that has wonderful flavor. The taste is always a surprise from the "regular ole veggies" kind of flavor!

I'll rate without stars since I made two changes. One is I subbed lemon for lime and second I microwaved instead of steaming on the stove. This just didn't work for me, but perhaps it was due to the changes I made.
Melt butter in small saucepan over low heat. Add garlic and cook/stir about 20 seconds. Add lime peel, chile and lime juice. Mix well. Set aside.
Place steamer basket in large saucepan. Add 1 c water; bring to a boil. Add vegetables to basket; cook 4-5 minutes or until crisp tender.
To serve, place vegetables in serving bowl and toss gently with butter mixture.