Steamed Thai Chicken Balls.
Peter J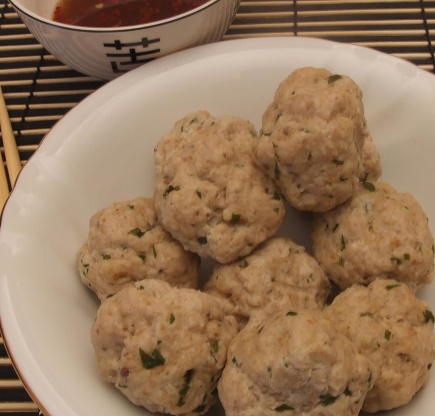 Aust Weight Watchers 5 1/2 points (6 chicken balls per serve)

Great blend of flavours and so quick to prepare! I used fresh lemongrass which was really worthwhile and cooked in a bamboo steamer which is great for these sort of dishes to prevent sticking. I used a hot chili for the dipping sauce which I loved, but for a family meal you could always make a second milder tomato based dipping sauce as well.
Place a steamer or colander coated with cooking spray over a pan of boiling water and cover with the lid or firmly sealed with foil.
In a large bowl, combing the egg, chicken mince, breadcrumbs, ginger, lemongrass and coriander.
Mix well using your hands.
Form spoonfuls of the mixture into 24 balls.
Place in the steamer, cover and cook for 10 mins or until cooked though.
While chicken balls are cooking, combine the fish sauce, lime juice, garlic, chili and sugar.
Place in small bowls for dipping.
Remove the balls from the steamer and serve accompanied by the dipping sauce.
Enjoy.