Steamed Mussels With Coconut Milk and Thai Chiles
StaceyWT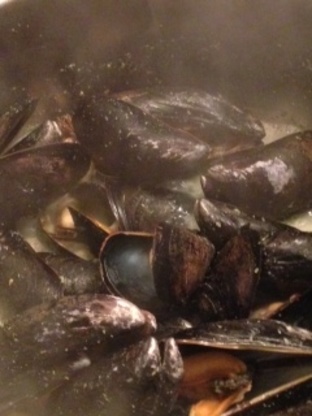 From Food and Wine Magazine - These mussels make a great appetizer or add some crusty sourdough bread and a salad and make a meal. They are just a litte sweet and just the right amount of spicy! Use a good lager to increase the great flavors. Food and Wine says: "Tyler Florence likes making this one-pot dish for parties because it requires so little cleanup. He simply steams plump mussels in lager, then tosses them in a creamy, spicy, slightly tart sauce made with ginger, chiles, coconut milk and lime juice. The result is a Thai-inflected version of the French classic."

This is a fantastic recipe! I decided to make it into an entree. I made the "paste" the morning of with little issue (I do not recommend using a Vitamix -- it was too large. I had to use our smaller bullet to get the ingredients to the correct consistency). We like food a tad more spicy, so I added ONE extra Thai Chili and a bit more fresh ginger. With just a few tweaks, I ended up with tons of broth adorning approximately 4 pounds of mussels, a few springs of cilantro for good measure, and loads of fresh bread toasted and drizzled with olive oil to dunk. This was a pre-Father's Day dinner hit. I will be making it again! Cheers.
In a food processor, combine the garlic, chiles, ginger, cilantro, lime zest and olive oil and process to a paste; transfer to a large bowl. Whisk in the coconut milk and lime juice and season with salt.
In a large soup pot, bring the lager to a boil over high heat. Boil until reduced to 1/2 cup, about 7 minutes. Add the mussels, cover and cook, shaking the pot a few times, until the mussels just begin to open, about 4 minutes.
Uncover the mussels and stir in the coconut milk mixture. Cover and cook, shaking the pot a few times, until all of the mussels open, about 8 minutes. Spoon the mussels and broth into bowls and serve.
Note: Beer: Since this Thai-influenced recipe calls for lager, a Thai lager would be a natural accompaniment. Consider the hoppy Singha lager from Boon Rawd Brewery, which has been making beer in Thailand for 72 years.