Bergy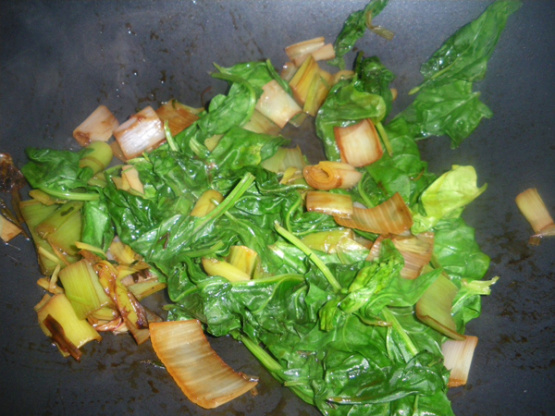 Spinach & leeks are a great flavor combination. You may want to adjust the lemon with the oil to suit your taste. Season with salt & pepper just before serving or leave it up to the individual to do it at the table. If you don't want to steam or microwve this recipe make it in a Wok or skillet -Pour 1/2 cup of chicken stock or wine into the wok medium heat, add leeks & tarragon cover with a lid. It will steam and brown nicely (apprx 7 minutes). Three minutes before serving add the spinach. You may need to add a bit more moisture, squeeze on the lemon juice cover for 3 minutes or until the spinach is wilted and hot through - Mix well with the leeks. Enjoy. My two photos shown are using a wok to prepare this recipe. I do not use any oil with this recipe just the lemon juice.

I microwaved the whole recipe. So easy. I`d use the left overs for an omlete filling or a quiche or mix into your favorite cooked pasta for a complete meal.This is something you don`t feel guilty eating! I did add roasted garlic to it. Thanks for a healthy side.
Place the leeks in a steamer with the tarragon and steam for 7 minutes.
Add spinach and continue to steam for 3 more minutes or until the spinach is wilted and hot Whip the oil& lemon juice together.
Place leeks and spinach on a platter and drizzle with the oil/lemon.
Serve.