Steamed Garlic and Herb Mussels
Rita1652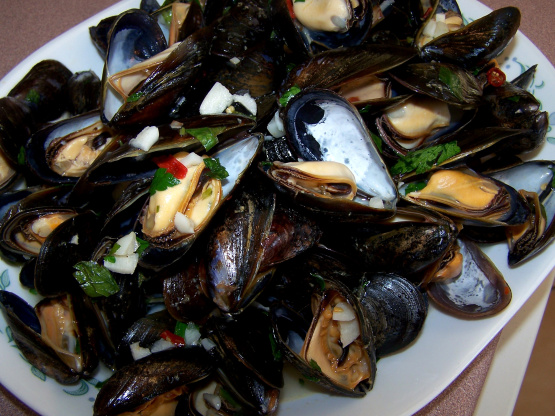 If you like mussels you will love these. I made this up from a couple of recipes.

Hey Girl friend! This was great and I believe you can see this review. It`s great to have your recipes and enjoy them and think of you. Rest in Peace. Hope you`re enjoying your wine! ;) Oh as for the review this is great, easy and spicy. How can you go wrong there is garlic and peppers lemon and fresh parsley and basil to brighten up this dish! A must for mussel lovers!!!!
Scrub mussels remove beards.
Heat oil in large saucepan, cook garlic, chili and rind stirring, about 3 minutes.
Add mussels, juice and wine, bring to boil.
Cook covered about 5 minutes until mussels open.
(discard any that do not open) Remove mussels from pan, Bring pan liquid to boil; cook, uncovered about 10 minutes or until mixture thickens slightly, stir in basil and parsley.
Return mussels to pan and simmer until heated through.
Have some crusty bread to wipe up the liquid.