Bergy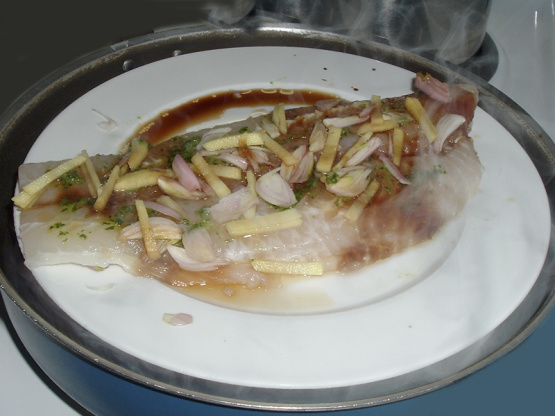 A delightful, tasty way to prepare fish with such wonderful flavor.
2

lbs whole sea bass or 2 lbs sea bass fillets (use other bass, orange roughy, perch, sole, or halibut fillets)

2 -3

inches fresh ginger, cut into a thin julienne

5

scallions, cut into a thin julienne
8 1⁄2 sprigs cilantro

1

teaspoon light sesame oil

1

tablespoon soy sauce

6

tablespoons chinese rice wine vinegar (unseasoned)
This fish dish cooks on a plate that is set inside a chinese steamer, or use a metal steamer or a large frying pan with a lid.
To do this, place an inverted pie pan or 3 custard cups in the frying pan before adding water.
Clean and rinse fish; pat dry.
Put the fish on a plate that will fit in your steamer or pan.
If using a whole fish, put half the ginger-scallion julienne and cilantro into the fish cavity and put the rest on top.
If using fillets, put half of the mixture on the bottom of the plate, cover with fillets in single layer and then top the fillets with the rest.
Sprinkle with the soy sauce, sesame oil and rice wine vinegar.
Allow to marinate at room temperature, covered, for 20 to 30 minutes.
Pour an inch or two of water into the bottom of a steamer.
When water starts to boil, put in the plate of fish.
Cover and steam over high heat until done, about 10 to 20 minutes, depending on the thickness of the fish.
Serve fish with the sauce that has accumulated in the plate.