Peter J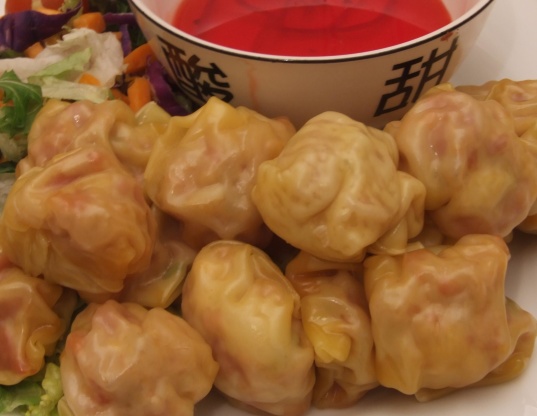 Idea I had when I fancied a few home made dim sims but didn't want to defrost a large amount of mince / ground meat. I thought they came out really well and the chorizo gives an interesting but not overpowering taste.

surprisingly brilliant :) I didnt think these would be soo tasty. Made up half as directed, then added a little shredded parmesan to the remainder, and they too were very good! Thanks Peter.
Dice the chorizo with a knife or process briefly in a food processor. It doesn't have to be especially finely diced so a sharp knife will save some cleanup.
Mix chorizo, garlic, ginger, onion and soy sauce well in a small bowl.
Put around a teaspoon of mixture into the middle of each wonton. Exact amount of mixture will depend a bit on the size of the wrappers.
Brush around the edge of each wonton wrapper as making with a little water and wrap into packages. There is probably a proper way to do this but I find the easiest is to fold left and right inwards, top and bottom inwards so it ends up square and then gently squeeze in the palm of my hand to form a rounder shape.
They stick very easily so place baking paper into a steamer and prepare the steamer as per usual until steaming well.
Steam for approximately 10 minutes. Because of the chorizo you really only need to warm through and not cook as long as you would with raw meat.
Serve with sweet & sour sauce, sweet chilli, soy sauce or whatever else takes your fancy for dipping.