Steamed Buttery Herbed New Potatoes
Hey Jude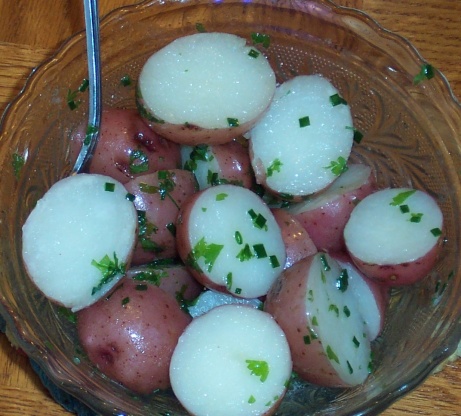 I found this in an ad (junkmail). It's SO good with really fresh new potatoes from the farmer's market. I threw in some freshly chopped thyme as well and it was really nice.
2

lbs new potatoes or 2 lbs red potatoes or 2 lbs white potatoes, cut in half (or a combination of both)

4

tablespoons butter, melted

3

tablespoons finely chopped parsley or 3 tablespoons thyme or 3 tablespoons rosemary (add any herbs to this mixture that you like)

2

tablespoons finely chopped chives
Steam the potatoes, covered, over boiling water until cooked, testing with a bamboo skewer to avoid splitting them, for about 15 minutes.
Mix butter, herbs and salt and toss potatoes in the mixture until coated.
Serve hot.