Nif_H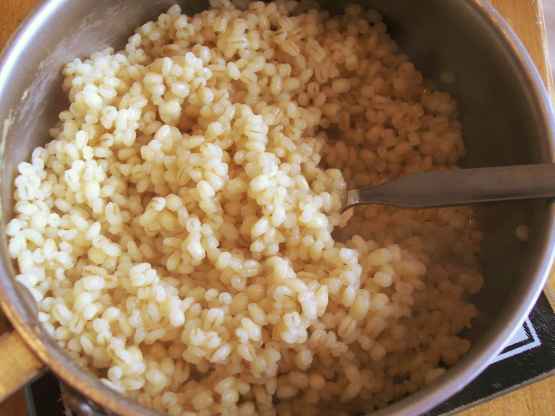 This is the first of my many experiments with barley. Oddly enough, it is also the base for a lot of my barley recipes. I often use it instead of steamed rice, and since it's already cooked it works well in soups without soaking up too much of the broth.

Top Review by Nif_H
A nice simple way to make barley! One word of caution is that you should use a bigger pot than you normally would for rice or something similar. I had this on the lowest heat setting and it still kept boiling over. I used organic chicken broth and it added nice amount of flavour. A healthy and yummy recipe that I made for my adopted chef for this round of Pick A Chef! Thanks Metric Jester! :)
Place barley and water in medium sauce pan, stirring once to even out barley.
Heat uncovered on high until just boiling (about 5 minutes).
Stir once more, cover and reduce to simmer for 20 to 30 minutes (do not over cook as barley will stick to anything!).
Most importantly, toss barley to release steam and get air to every grain. This will keep it from sticking.
Now you can use it instead of rice in almost any dish, and add a bit of fibre to your diet.
NOTE: Barley can absorb even more liquid than this, so you can add it to soup, or make a gravy with it.