ImPat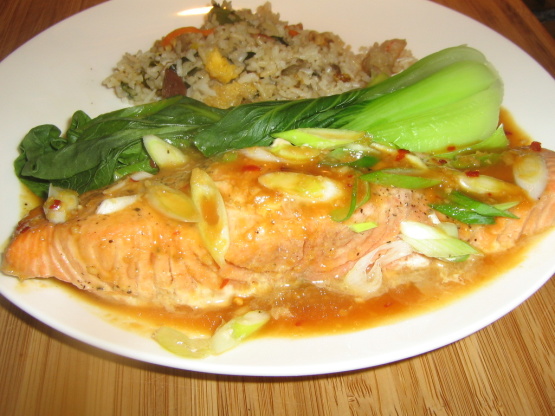 A recipe from Ricardo. This is so good. I steamed the marinated salmon in my steamer machine. But you can do it any way you want.

Top Review by ImPat
The DM and the DS thoroughly enjoyed this tonight, though I found it a little to sweet and it was cooked to perfection in the 8 minutes in the bottom tier of my 3 tier electric steamer. The big issue I had was reducing the marinade to a syrup after 10 minutes of simmering (anything above that and there would have been a volcanic explosion) so transferred to a frypan to get the sauce over a larger surfact area but after 5 minutes still at sauce consistency so left it at that and served over the salmon and was wishing I had served plain rice instead of fried rice as it would have been nice to go over the rice and would also like to add a small chilli finely chopped to give a little zing and take away some of the sweetness that I was not so keen on. An excellent quick healthy mid week meal, thank you Boomette, made for Aussie/Kiwi Recipe Swap #62 March 2012.
Marinade: In a bowl or sealable bag, combine all the ingredients. 
.
Salmon: Add the salmon to the marinade and coat well. Refrigerate for about 2 hours.
Drain the steaks and pour the marinade into a small saucepan. Bring to a boil and simmer for about 5 minutes or until the sauce is syrupy. Set aside.
Place the steaks, side by side, in a steamer (bamboo or a pan with holes on the bottom), placed on top of a pan of boiling water. Season with salt and pepper. Top the steaks with the green onions. Steam for about 8 minutes or until the desired doneness.
Spoon the sauce over the salmon and serve with jasmine rice and green vegetables.