Nimz1466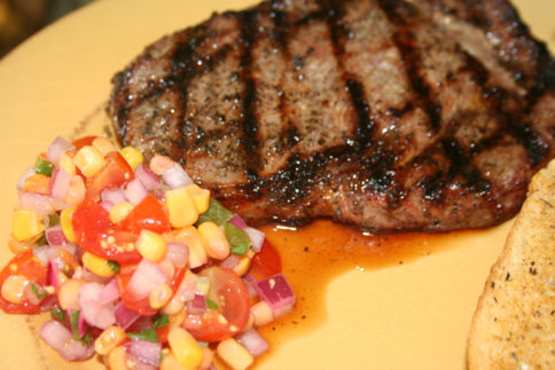 This is a very quick and easy dish from Weight Watcher (4 pts. per serving!). The salsa can be made evern more colorful by using a variety of tomatoes, be creative!

This was a very different steak dinner for us. I liked the salsa with doubled the lime juice. I made this the day before and it had great flavor. DH is not convinced he likes his steak this way but was a nice change. I only added a pinch of cumin. Didn't want to push him too far. LOL Thanks Made for PAC Fall 2009 :)
Preheat broiler (or grill or however you want to cook the steak) Combine tomatoes, onion, japs, lime juice, cilantro, corn and tsp salt, set aside.
(I like to make this a few hours early and let it marinate in the fridge) Smash garlic and salt with knife and make a paste; add cumin and pepper and then spread over steak.
Cook the steak however you like and serve with salsa!