Steak With Shallot-Red Wine Sauce
Nif_H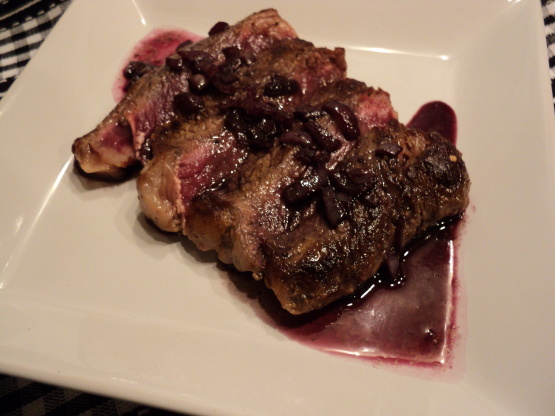 The sauce makes these steaks really special. Use rib-eyes or beef tenderloin for a really tender meal. From Good Housekeeping, January 2003.

Top Review by Nif_H
Another very delicious recipe from lazyme! The recipe was super-easy, the steak was tender, the sauce was flavourful but not overpowering. I was really happy with the results. I cooked my steak for 4 minutes a side because I like blue rare! Made for Went to the Market. Thanks lazyme! :)
In 12-inch skillet, heat oil over medium-high heat until very hot but not smoking.
Meanwhile, pat steaks dry with paper towels.
Add margarine to skillet.
Add steaks; sprinkle with salt and pepper and cook 8 to 10 minutes for medium-rare or until desired doneness, turning steaks over once.
Transfer steaks to cutting board; keep warm.
To drippings in skillet, add shallots and cook over medium heat 3 to 4 minutes or until browned and tender.
Add wine to skillet and heat to boiling over high heat. Boil 2 minutes.
To serve, thinly slice steaks and spoon wine sauce on top.