Steak With Parmesan Butter, Balsamic Glaze, and Arugula
JustJanS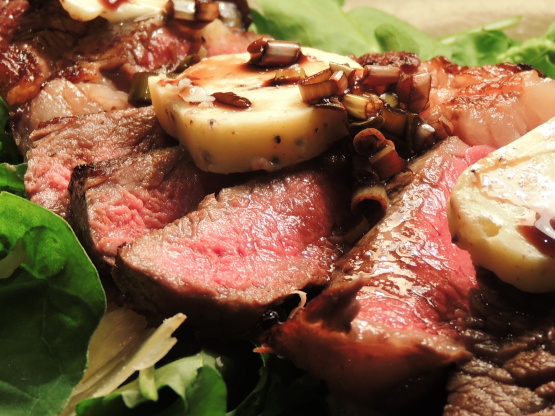 Source: Bon Appétit (October 2008)

Wow, this was a lovely way to cook our steak tonight. We used rump steak and our own home grown rocket (arugula). I added in extra sugar as the balsamic was too tart for my liking-next time I would use maybe a of cup balsamic and reduce it down as that makes for a nicer sweet finish that doesn't need any sugar. I made the mistake of chilling the butter and it really didn't melt over the steak-leave it at room temperature and it would be perfect!
Mix grated cheese and butter in small bowl.
Season generously with salt and pepper; set aside.
Sprinkle steak generously with salt and pepper.
Heat oil in medium skillet over medium-high heat.
Add steak; cook to desired doneness, about 4 minutes per side for medium-rare.
Transfer to plate.
Add vinegar, shallots, and sugar to skillet; boil until reduced to glaze, stirring constantly, about 1 minute.
Divide arugula and Parmesan shavings between 2 plates.
Squeeze lemon over.
Slice steak; place atop arugula.
Top steak with Parmesan butter.
Drizzle lightly with glaze.