Steak With Blue Cheese Sauce
Nick216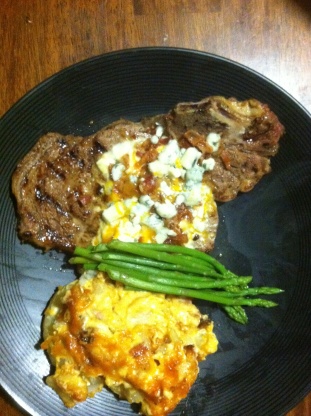 Very assertively-flavored steak recipe that I learned about 12 years ago when I was learning to cook to impress my now-husband. Adapted from Betty Crocker's New International Cookbook. This Spanish-influenced recipe can tend to be somewhat on the salty side, so be careful to use unsalted butter to saute the steaks, and a good-quality, not-overly-salty blue cheese in the sauce. Serve simply, with a lightly-dressed salad, good crusty bread, and a nice red wine.

Oh my, sooo good! My husband said that he would've been very pleased if he'd have ordered this in a restaurant. I melted the cheese mixture on the stovetop like the recipe called for but left some chunks unmelted. We like blue cheese chunks. I made the cheese mixture about a 1/2 hr in advance then took off heat and it cooled until I was ready for it. I did the steaks on the grill (in -2 windchill, mind you) and re-heated the cheese mixture (with an added dash of white wine) just to warm then served over the hot steaks. My husband is not much for steaks cooked on the stovetop, so I did not follow the recipe as far as the water goes. Would NOT have changed a thing about how I cooked this. Cheese mixture on the stove (minus the water), steaks on the grill, cheese sauce heated up with dash of white wine, served on hot steaks. YUM!
226.79

g good blue cheese, crumbled

1-3

garlic clove, chopped

29.58

ml dry white wine (drinking quality)

0.25

ml ground red pepper

29.58

ml unsalted butter

4

small New York strip steaks (about 1 inch thick, about 2 pounds) or 4 small rib eye steaks (about 1 inch thick, about 2 pounds)

59.14

ml water
chopped parsley (for garnish)
In a medium skillet, combine cheese, garlic, wine, and red pepper over low heat.
Stir frequently until cheese melts.
Remove from heat and keep warm.
In large skillet, melt butter over medium-high heat, and cook steaks to your liking, turning only once.
(About 4- 5 minutes per side will result in steak done to about medium, depending on your cook top).
Sprinkle pepper over steaks, remove from skillet and keep warm.
Add water to skillet and heat to boiling, stirring constantly to loosen browned bits.
Boil 2 minutes, then stir pan juices into cheese mixture.
Pour over steaks and sprinkle with parsley.