Steak & Spinach Pinwheels
lynmoz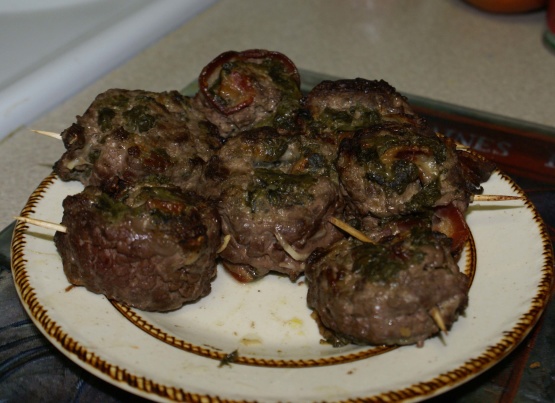 This came from a Better Homes & Garden cookbook. I use more parmesan cheese than the original recipe. It's a great low carb dish!

Top Review by lynmoz
Super easy to make and the ingredients were inexpensive! This looks like a fancy dish without a ton of work. I used cubed steak and canned spinach, came out beautifully. The whole meal cost me less than $10 and that included the side dish! I cut the steak so that each bacon slice was rolled into one piece. Thanks so much for this recipe!
Score steak by making shallow cuts at 1 inch intervals diagonally across the steak in a diamond pattern. Repeat on the other side. With a meat mallet, pound the steak into a 12x8 rectangle, working from the center to the edges. Sprinkle with salt and pepper. Arrange bacon lengthwise on the steak.
Spread spinach over bacon. Sprinkle with parmesan cheese. Roll up from short side. Secure with wooden toothpicks at 1 inch intervals, starting 1/2 inch from the end. Cut between the picks into slices.
Place cut side down on an unheated broiler rack of a broiler pan. Broil for 6 minutes on each side. Remove picks and serve.
These are great to freeze before cooking and keep on hand.