K9 Owned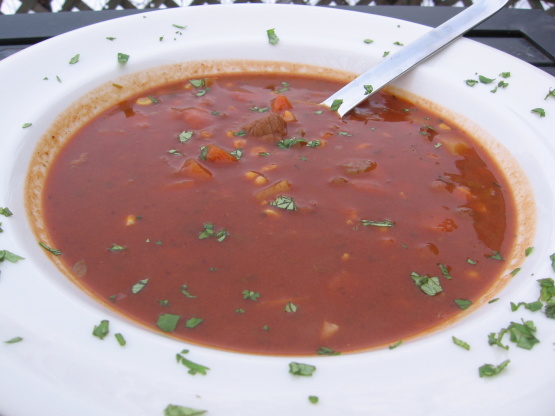 From a cookbook called The Complete Guide to Country Cooking. This is the one of the best soups I have ever had! The paprika gives it a nice red color and it is very thick and filling on a cold winter's night.

We had this for supper it was supper good thanks for posting your recipe love it .We made it in a crockpot it was so tender and goog thanks again jim from tn.
In a large saucepan, melt 1 tablespoon butter over medium heat; add 1 tablespoon oil. Brown half the beef. Remove from pan. Add remaining butter and oil. Brown remaining beef and onion. Return all meat to pan.
Combine flour, paprika, salt and pepper; sprinkle over beef and mix well. Stir in stock and water. Add bay leaf, parsley, celery leaves and marjoram; bring to a boil. Reduce heat; cover and simmer for 1 hour or until tender.
Add potatoes, carrots and celery. Cover and simmer for 30-45 minutes or until vegetables are tender and soup begins to thicken. Stir in tomato paste; simmer uncovered, for 15 minutes. Remove bay leaf before serving.