Lazarus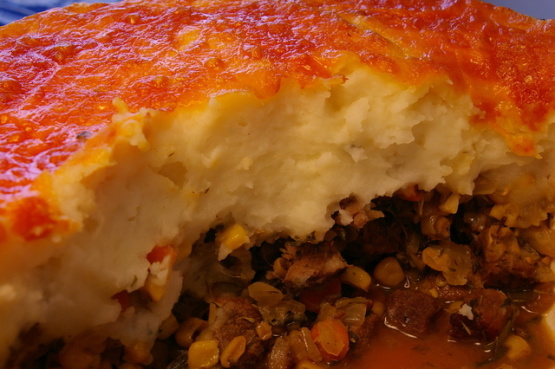 Your traditional meat and veg mix with mashed potatoes on top. I took a few different recipes and combined them to make this one that we love! My advice is always to pre-chop everything. It makes it so much easier. This way also you can enjoy a glass of the wine you're cooking with while you're cooking!

Not bad at all. There was no mention of how much salt to use, though I added some. Not enough, had to add more afterwards. I had no wine, so I added a splash of beer and some beef broth for the liquid, with adequate salt it was quite good.
heat oil and cook steak in large saucepan for ten min on medium heat stirring occasionally.
The goal is to cook the meat slowly to seal in the flavor.
In a separate saucepan cube all potatoes, cover with water and boil until soft - usually 15 to 20 min if you cube small enough.
Add all onions, carrots and scallions to the steak and saute about 5-10 minute.
Add Herbs, corn to the meat/veg mixture and saute another 5 minutes.
Add 1 cup wine and saute on med low heat 10-15 minute.
Meanwhile drain the potatoes, mash (by hand - it tastes better) and add butter and milk to soften.
Set aside.
Pour Meat mixture into a casserole dish, add mashed potatoes on top and cover the entire thing with cheese.
Cook at 350F for 30 minutes or until potatoes look crispy.
Enjoy.