Steak Served on Parmesan Toasts With Sour Cream/Onion/Garlic Sau
lazyme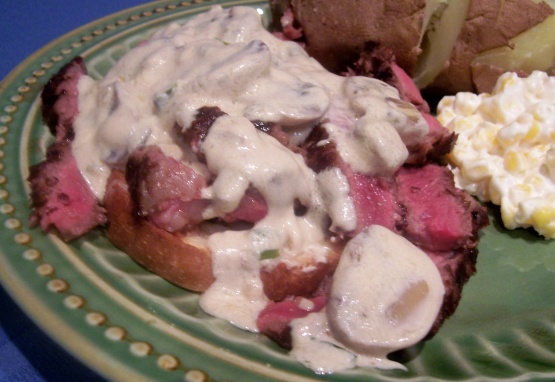 This is a different way to serve your favorite steak. The sauce is wonderful. The original recipe is said to be French Cuisine by Debra Weber and I changed it some for us, so not sure if it is still considered French. Hope you enjoy

Outstanding! We loved this! I used filet mignon and took lazyme's suggestion of adding mushrooms. The sauce is so tasty and compliments the meat perfectly without overpowering the meat's flavors. Thanks, Nimz! Made for PRMR tag.
Preheat oven broiler.
In a skillet, melt butter over moderately low heat and cook the green onions and garlic until they are soft.
Remove skillet from the heat and whisk in the sour cream, Worcestershire sauce, red hot sauce or jalapeno hot sauce.
Taste and adjust seasoning, adding salt and pepper.
Cover and keep warm.
Grill steaks to the desired degree of doneness.
While the steaks are grilling, prepare the toasts.
Sprinkle each slice of toast with Parmesan cheese and broil for about 1 minute, until cheese is bubbly.
When steaks are done, transfer to a carving plater and allow to rest for about 1 minute.
Slice the steaks, reserving the juice.
Add the juice to the sour cream/onion/garlic sauce and stir.
To Serve:.
Place the Parmesan toast on the plates.
Arrange the steak slices on top of the toast in overlapping slices and then the remaining slices around the toast.
Put some of the sauce over the steaks and serve.