gerry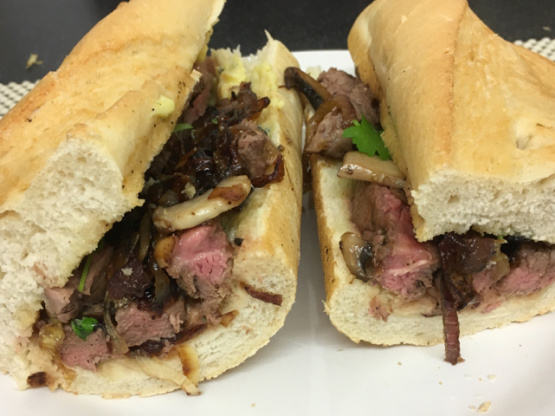 Friday night delight....I like this with an ice cold, Grey Goose martini. From Firefly, a bistro-type restaurant in Chicago.

Sweet bajeezus... these were awesome. We had a father's day feast with these. We used marinated tri-tip and used the blue cheese/butter lusciousness as a spread on our rolls. The onions added such an amazing compliment to the sandwich. Thanks for an easy, fantastic recipe!!! This is an absolute do-again for us!
Heat one tablespoon of the butter and one tablespoon of the oil over medium and add both types of onion and a little salt and freshly ground black pepper; cook, stirring, until crispy and brown, about 15 minutes, then set aside.
Mash together the remaining 2 tablespoons butter, the cheese and mustard and set aside.
Rub the steaks with salt and pepper; heat the remaining 1 teaspoon olive oil in a medium cast-iron skillet over high heat; when very hot, add both the steaks and cook without disturbing for 2 minutes; flip and brown the other side for 2 more minutes- this will give you medium doneness but still pink meat.
Place the steaks onto the roll bottoms, top each with half the butter mixture and then smother with onions; top with the roll tops and eat with ice cold, alcoholic beverages on a Friday evening.