Prep 10 mins
Cook 1 hr 30 mins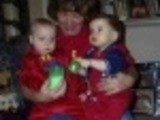 I found this recipe about 30 years ago in a magazine - though I no longer remember which one. Wonderful when you want a meat dish!! And very simple to make.
2 lbs chuck steaks, cut into serving pieces.
1 envelope onion soup mix (I use Lipton's)
1 (16 ounce) canpeeled Italian tomatoes
1 teaspoon oregano
garlic powder, to taste (or garlic clove, chopped fine)
pepper, to taste
2 tablespoons cooking oil (I prefer olive oil)
2 tablespoons wine vinegar
Directions
In a large skillet, arrange meat.
Cover with other ingredients.
Simmer covered 1 and 1/2 hours or until meat is tender.
Most Helpful
I pulled this recipe for my DH to put together on his day off while I was at school. It said to cut into serving size pieces, but he cut it into bite size pieces. LOL! He used diced tomatoes with a little Italian seasoning, and then he coated the beef with flour and browned it before proceeding with the recipe. Everything else was followed exactly, and I can say we thoroughly enjoyed it! Served with mashed potatoes and green beans. OMG! We will make this again. Thanks for the recipe.
One of my favorite stand-bys. I found it years ago on a box of Lipton onions soup mix. I don't bother to cut up the meat--if cooked properly, it falls apart. I use lean beef/London broil and extra tomatoes so that I have leftovers. They are great as a pasta sauce with or without meat.
This is absolutely delicious! I made it exactly as written except for the onion soup. Instead I used extra garlic, extra red wine vinegar, sea salt and dried minced onion. My steak was 2.75 lbs and it was falling off the bone at 1 hour 15 min.