Steak Quesadillas With Hot Peach Salsa
loof751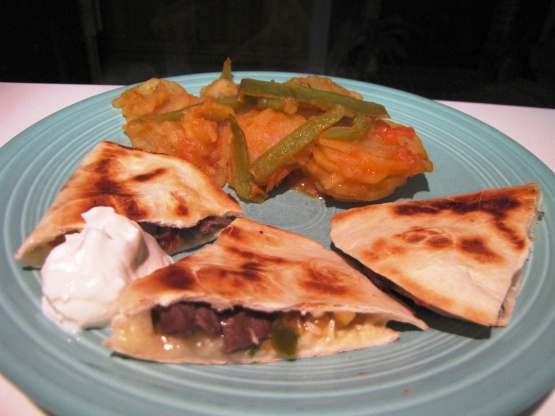 A recipe from Rachael Ray that can be done on the bbq.

Great quesadilla recipe! I left out the onions and used recipe #364662 for the jalapeno, and I thought that was perfect with the peaches and lime. I enjoyed this with the steak but think it would be even better with chicken. Thanks for posting this recipe! Made for the Top Favorites of 2009 event
In a large bowl, combine the peaches, 1/2 cup red onion, the jalapeno, cilantro, 1/2 cup lime juice and 1/4 cup olive oil. Cover and refrigerate.
In a large resealable plastic bag, combine the remaining red onion and 2 tablespoons each lime juice and olive oil. Add the steak to the bag, shaking. Refrigerate for at least 4 hours or overnight.
Preheat a grill to medium-high. Pat the steak dry, drizzle with olive oil and season with salt and pepper. Grill, covered, for 5 minutes on each side for medium-rare. Let rest for 10 minutes; slice.
Preheat a large cast-iron skillet on the grill. Cover half of each tortilla with steak slices. Season the salsa with salt and pepper. Dollop 1/4 cup each salsa and cheese on the tortillas; fold in half.
Drizzle olive oil in the skillet. Working in batches, add the quesadillas and cook until golden, 2 minutes on each side. Cut into wedges; serve with the remaining salsa and the sour cream.