Sunam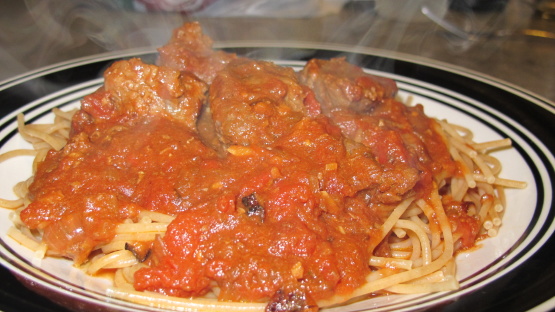 A pretty easy and delicious one-skillet meal.

I made this tonight and my husband and I absolutely loved it. The only change I made was to use sweet red peppers and I cut the steak into one inch pieces after the initial sear to make it easier to serve and eat. Thank you for a delicious recipe.
Heat the oil in a large skillet over high heat.
Add the steak and brown well on both sides.
Slice the onion and peel the garlic.
Remove the steak from the pan and reduce heat to medium.
Add the onion and garlic and cook for about one minute.
Add the hot cherry peppers, if desired, and then the tomato paste.
Roughly chop or squeeze the tomatoes and add to the pan along with the spices.
Bring to a boil, put the steak back in the pan. Cover and lower to a simmer.
Cook for 1 1/2 hours until extremely tender.